Sultanate of Brunei praises Egypt's Dar al-Ifta global efforts to serve Islam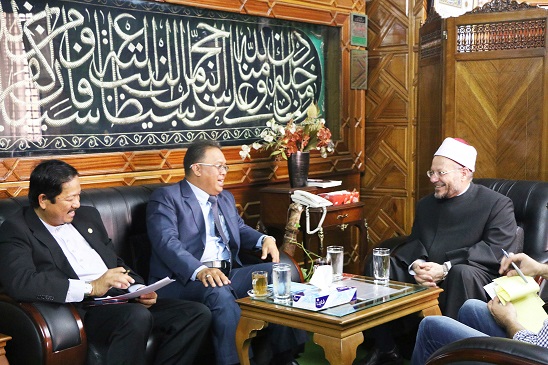 Dr.Shawky Allam, Egypt's Grand Mufti, received a high-level delegation from Sultanate of Brunei, headed by His excellency Mr.Abd al-Qahar Hussein, Brunei ambassador to Egypt. The meeting aims at investigating the means of enhancing religious cooperation between Egypt's Dar al-Ifta and Sultanate of Brunei.
Dr.Allam stressed on the deep-rooted ties that exist between Egypt and Brunei, pointing out that the Sultan of Brunei had many religious advisors from the Azhar scholars.
From his part, Brunei ambassador praised the tireless global efforts that Egypt's Dar al-Ifta exerts in the field of training muftis on the craft of fatwa issuance and its endeavors to present the true image of moderate Islam to the entire world. He confirmed that the Dar is doing a great service for Islam and Muslims worldwide.
Related Articles