Dar al-Iftaa announced the formation of a committee of all religious entities for studying pressing religious issues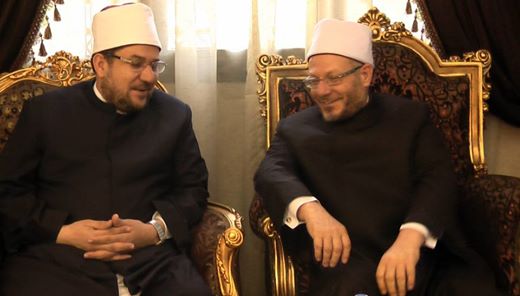 Dr. Shawky Allam –the grand mufti of Egypt- met today with Dr. Mukhtar Jum'a –the Minister of Religious Endowments- for promoting cooperation between religious institutions in Egypt.
This comes among the cooperation between Dar al-Iftaa and other religious institutions under the auspices of the noble Azhar which is represented by the Ministry of Religious endowments, Academy of Islamic Research, Supreme Council for Islamic Affairs and the International League of Azhari graduates. This is under the leadership of Dr. Ahmad al-Tayyib, the Grand Sheikh of the noble Azhar for discussing the current issues raised against Islam.
The Minister of Religious Endowments offered to benefit from Dar al-Ifta's experience in tracking infedilizing fatwas, misconceptions and the means for confronting them in an academic Azhari methodology.

During the meeting, the formation of a committee which meets monthly and represents all religious entities was announced under the auspices of the noble Azhar. This is for the purpose of confronting current issues and unprecedented matters according to Azhari moderate methodology and for clarifying the true image of Islam.
Furthermore, an agreement of mutual cooperation, exchanging experiences and providing the library of Dar al-iftaa with a copy of the publications issued by the Supreme Council of Islamic Affairs was reached. And in return exploiting the publications issued by Dar al-iftaa for achieving unity of the Islamic institution against current challenges.

Related Articles