The Grand Mufti of Egypt: We should not give the opportunity to those who wish to create sedition to thrive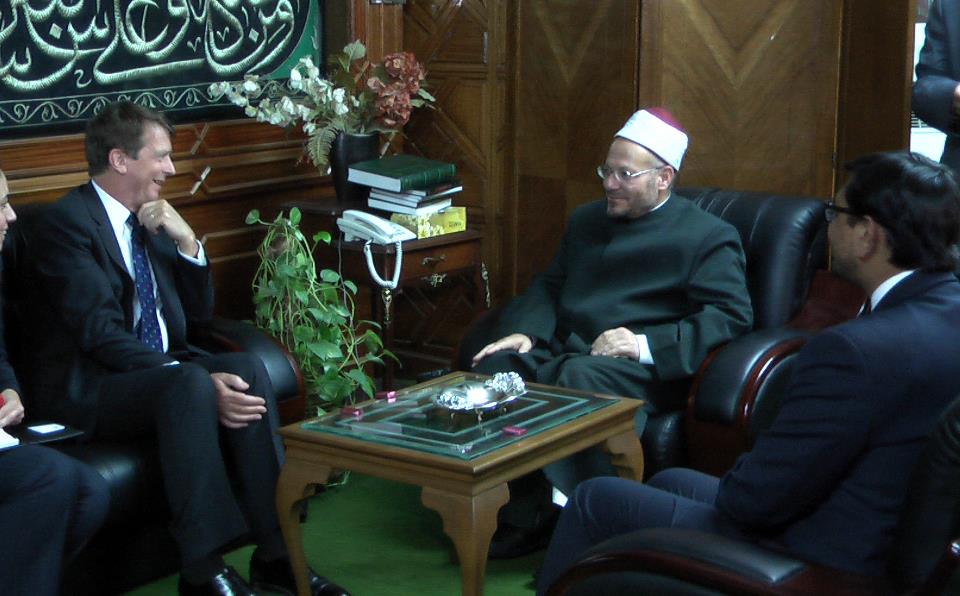 The British ambassador of Britain to Cairo, James Watt, visited the Grand Mufti of Egypt, Dr. Shawqi Allah, in his office at Dar al-Ifta to congratulate him on the occasion of his appointment. During the meeting, Dr. Shawqi, said that all the people of Egypt are partners in this country with equal rights and duties. He added that Egyptians condemn violence in all of its forms and called upon them to put the interests of religion and the nation above everything else.
Dr. Shawqi added that the principle of citizenship should be the balance for weighing matters in the country and we should not give the opportunity to anyone who wishes to create a sedition between the people of Egypt.
The Grand Mufti stressed that throughout the history of the country, [the people of] Egypt have demonstrated unique unity and citizenship. During wars and revolutions, both Muslims and Christians fell in battle. No one can harm Egypt or its national fabric.
The British ambassador to Cairo stressed that his country has great respect for the noble Azhar and Dar al-Ifta and counts on these two institutions during the coming period due to the moderate thought demonstrated by Al-Azhar that calls for coexistence.
The ambassador added that his country is confident that a country such as Egypt will quickly get out of this transitional period and said that Egypt has a lot of experience that qualifies it to lead the world.
Related Articles