Egypt's Grand Mufti successfully ends his official visit to the Vatican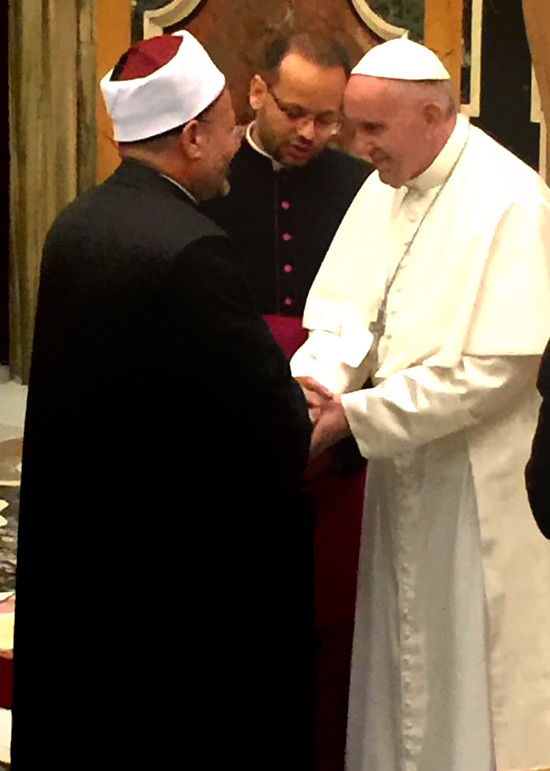 November 6, 2016

The Grand Mufti of Egypt, Dr. Shawki Allam, has successfully concluded his official visit to the Vatican where he participated in a number of important activities aimed to correct the distorted image of Islam. The visit is regarded as a national mission that comes within the framework of utilizing Egypt's soft power.

Dr. Allam started his tour by meeting Pope Francis at the headquarters of the Holy See. During their meeting, Dr. Allam said that Egypt's leadership and people greatly appreciate Pope Francis's big efforts to promote peace and love worldwide. He also stressed the importance of cooperation among religious leaders to resolve the multiple crises that are currently facing the global community.

On his part, Pope Francis expressed his deep appreciation to the leadership and people of Egypt, one of the most important countries in the region and stressed the importance of enhancing religious cooperation between the Vatican and Egypt's religious institutions.

The Grand Mufti also conducted a lecture at the Vatican's Pontifical Gregorian University in which he confirmed the necessity of focusing on the common values among faiths, adding that holding fast to such religious values as mercy, peace and love will defuse religious-based conflicts.

This was followed by meetings with the European Union's ambassador to the Vatican, Jan Tombiński and Deputy Secretary of State in the Vatican, Rev. Anthony Kamilara. In his meetings, Dr. Allam discussed the efforts exerted by Dar al-Iftaa to combat extremist ideologies. He also stressed that Islam has established an ethical humanitarian civilization that encompasses all races, philosophies and cultures.
Related Articles