Commenting on the presidential race: Egyptians should participate in choosing Egypt's future leader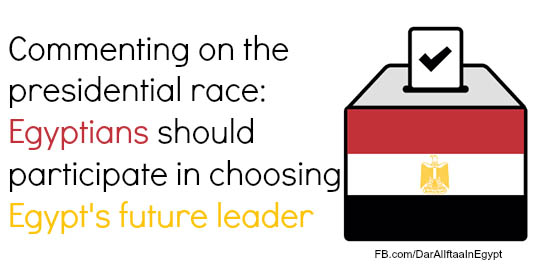 Dar al-Iftaa called upon the Egyptian people to exercise great care in choosing their next president with the responsibility and honesty required to fulfill the higher interests of religion and the nation.
In a statement released on Sunday morning, it added that once the announcement of the candidates is made, every citizen bears the important responsibility of participating in the rebuilding of the country. It stressed that the presidential elections constitutes the first of the stages of stability in Egypt and called upon the people to unite and deal positively with this important event. Each citizen should choose conscientiously the candidate who meets the conditions of leadership and the ability to manage the affairs of the country and its people. Dar al-Iftaa further said that Islamic law has in more than one place pointed out the qualities that must be present in a ruler or president and demanded that men of religion and intellectuals explain and clarify these qualities without getting involved in partisan politics. It appealed to the media to enlighten the general public on the candidates' resumes and history without bias and without ignoring one candidate in favor of the other.
Dar al-Iftaa stressed that the call to boycott the presidential elections harms the country and citizens, and asserted that Islam encourages positivism, construction, and participation. It asked all Egyptians to respect the election results and the decision of the Supreme Committee for Elections and expressed its hope that the elections reflect the will of the people and express their aspirations.
Related Articles