A Year in Review: Egypt's Dar al-Ifta issues the annual report of accomplishments for the year 2019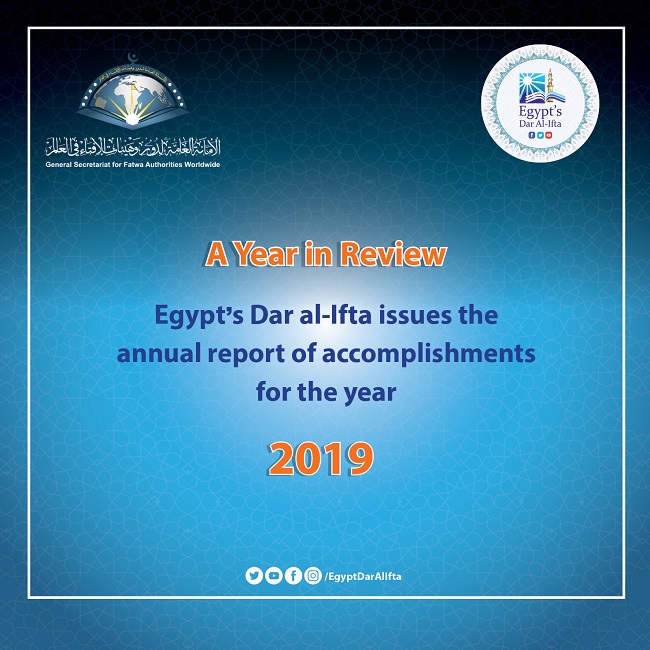 Pursuant to its role and thorough efforts to reform the process of Ifta, encounter chaos of issuing fatwas, combat radicalization and Islamophobia, provide training to muftis and protect Egyptian families through its social activities, Egypt's Dar al-Ifta issued the annual report on its accomplishments during the year 2019.
The report presents the religious and Ifta leading achievements on the international level through the activities, initiatives and projects implemented by the General Secretariat for Fatwa Authorities Worldwide in 2019.
According to Dar al- Ifta's annual report, the most prominent accomplishments include:
- Egypt's Dar al-Ifta issued one million and 100.000 fatwas covering verbal, written, telephone and electronic means of communication. This is in addition to responding to questions through the daily live fatwa service on the Dar's official Facebook page that witnessed great leap throughout the year.
- The total number of reports issued by the observatory for monitoring aberrant fatwas and extremist ideologies in 2019 are 150 and 243 news statements in addition to publishing an encyclopedia on extremism and Islamophobia.
- Dar al- Ifta achieved remarkable success in communicating with the audience and mass media, presenting an honorable image of Islam, monitoring and analyzing religious issues worldwide through its social media platforms. These include Facebook, Twitter, YouTube, Sound cloud and Instagram. In 2019, the number of followers on official Facebook page reached 8 million and 600.000, 43.000 on YouTube and 166.000 on Twitter. The total number of official Facebook pages are 16 in different languages (Arabic, English and French).
- The General Secretariat for Fatwa Authorities Worldwide held its fifth international conference titled, "Managing Juristic Differences: A Civilizational Approach" under the auspices of Egypt's President HE Abdel-Fattah al-Sisi. The conference announced a number of initiatives and leading fatwa projects included for instance: The Charter of Fatwa Tolerance, announcing December 15 an International Day for Ifta, Imam Qarafi Prize for Excellence in Ifta etc.
- The work of the Global Fatwa Index (GFI) has witnessed great leap. It issued 52 reports that monitored, analyzed and addressed critical fatwa issues from worldwide and announced the launching of the first research engine to monitor fatwas according to present-day methodology.
- The year 2019 witnessed intense activities from the part of the Scholars of Dar al- Ifta and the Grand Mufti, Dr. Shawki Allam. They traveled around the globe to open the channels of cooperation and coexistence among the people of different faiths and cultures. Countries included Austria, Moscow, Germany, UAE, KSA, Morocco, Algeria, Pakistan and others.
Related Articles