The German Bundestag, Egypt's Dar al-Ifta cooperate to promote world peace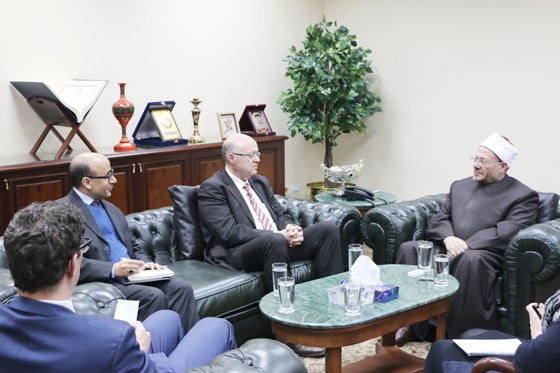 The Grand Mufti of Egypt, Dr.Shawki Allam, received a delegation from the German Bundestag headed by Alexander Radwan, Member of the German Parliament, and head of the Committee on Foreign Affairs. The meeting comes as a step forward on the path of promoting global peace and security and achieving common grounds among the world's States.
Dr.Allam presented to the delegation the efforts exerted by Egypt's Dar al-Ifta to combat radicalization and its recent participation in many international conferences to meet these goals. "Egypt is keen to open to the world and maintain global outreach and cooperation in a manner that achieves common grounds and promotes worldwide peace," Dr.Allam stated.
On his part, Alexander Radwan praised the key role that Dar al-Ifta plays in combating radicalization and removing doubts about Islam especially after the positive initiatives the Grand Mufti has recently announced during participating in Davos Economic Forum and his meeting with the Secretary General Ban Ki Moon.
By the end of the meeting, Dr.Alexander extended an open invitation to the Grand Mufti to visit and give a speech in the German Bundestag on the authentic true teachings of Islam and to address the legal needs of Muslim community in Germany as a mans to offer religious support.
Related Articles