During his meeting with the national committee of October warriors: The grand mufti of Egypt salutes the veterans on Sinai Celebration Day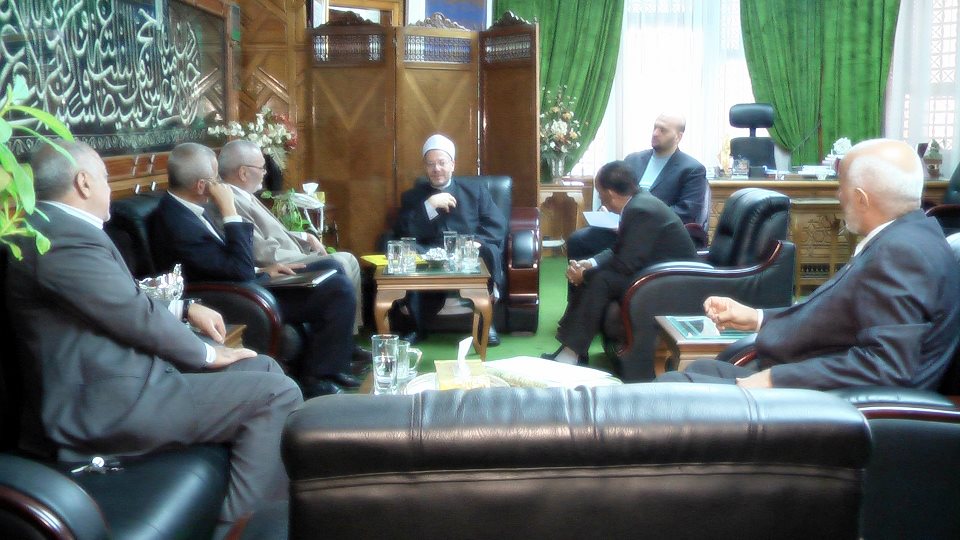 Dr. Shawqy Allam-the grand mufti of Egypt- received a delegation from the national committee for October war warriors and old warriors lead by major general Hassan Abu al-Dahab, brigadier general al-Sayed al-Munji, Sabry Shahien, Muhammad Abd al-Moniem and Hassan al-Mahdi.
The grand mufti praised our great army on Sinai Celebration Day and called upon everyone to preserve the armed forces. He addressed the heroes of October war: "You have sacrificed every precious thing for the prosperity of Egypt". He emphasized that Egypt is dear to us with its people and everything it includes.
He emphasized that there is no military left in the region except the Egyptian Armed Forces which must remain steadfast no matter challenges we face.
He stressed, if Egypt becomes strong, the Arab and Islamic countries follow it. He remarked that we are in need for moral methodology which leads to the unity of Egyptians.
At the end of the meeting, the delegation of October warriors stressed their appreciation towards the noble Azhar and Dar al-ifta' al-Missriyah, their efforts for spreading moderation among people and endeavors they exert towards unity for the prosperity of Egypt.
Related Articles