The grand Mufti of Egypt: We will never deviate from our Islamic identity…citizenship is the criteria that defines the relations among Egyptians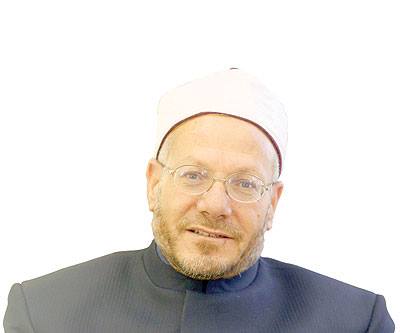 After choosing him a member from among the noble Azhar representatives in the 50 member-committee of re-drafting the constitution, Dr. Shawqi_Allam, the grand Mufti of Egypt, confirmed that this choice is considered a national responsibility that he really respects and appreciates. He pointed out that the nominated members of the Azhar representatives will work hard on clarifying the vision of the noble Azhar about the constitution committee based on conducting a comprehensive, complete, legal and linguistic study of the entire given details.

In a press statement, the grand Mufti declared that al-Azhar is the first and foremost institution that is responsible for maintaining shari'ah (Islamic law) and the Islamic identity, confirming that this meaning is deeply rooted and established in the minds of all Egyptians.
The grand Mufti wished the rest members of the committee success in drafting a constitution that is worthy for# Egypt and Egyptians, represents the entire sects of people and meets their aspirations for dignified life and achieves societal peace.

The grand mufti concluded his statement saying that there is a consensus among all Egyptians on holding fast to our civilized Islamic identity and considering "citizenship" as the basic criteria that defines the relations among Egyptians.
Related Articles