Egypt's Mufti receives a high-level American delegation, explores means of mutual-religious cooperation to counter extremist ideology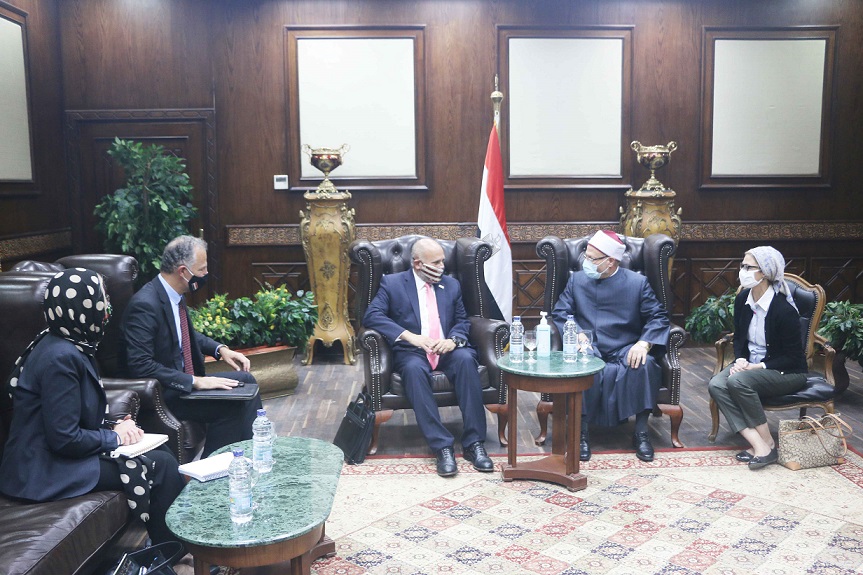 Wednesday, October 7, 2020
Egypt's Grand Mufti, Dr. Shawki Allam, received on Wednesday a high-level American delegation to discuss means of fostering mutual religious cooperation, especially in countering extremist ideologies. The delegation—headed by John Barsa, USAID Administrator—included Jonathan R. Cohen, U.S. ambassador to Cairo and Samah Norquist as USAID Chief Advisor for International Religious Freedom to the Administrator.
Dr. Allam presented the history of establishing Egypt's Dar al-Ifta, the methodology of issuing fatwas and the scholarly efforts it exerts to counter extremist ideologies, hate speech and Islamophobia.
He added that religious extremism is the outcome of a distorted religious discourse addressed to the West, and therefore Dar al-Ifta pays great attention to reach out to Muslims in in Western communities and encourage them to engage in their societies and not to isolate themselves.
The Grand Mufti stressed the efforts the General Secretariat for Fatwa Authorities Worldwide does to eliminate hate speech and regulate the process of fatwa issuance worldwide.
At the end of the meeting, the delegation thanked the Grand Mufti, praised his responses that clarified many vital points and expressed their interest in having further cooperation.
Related Articles