The Azhar is the cynosure of Islamic knowledge for Singaporean students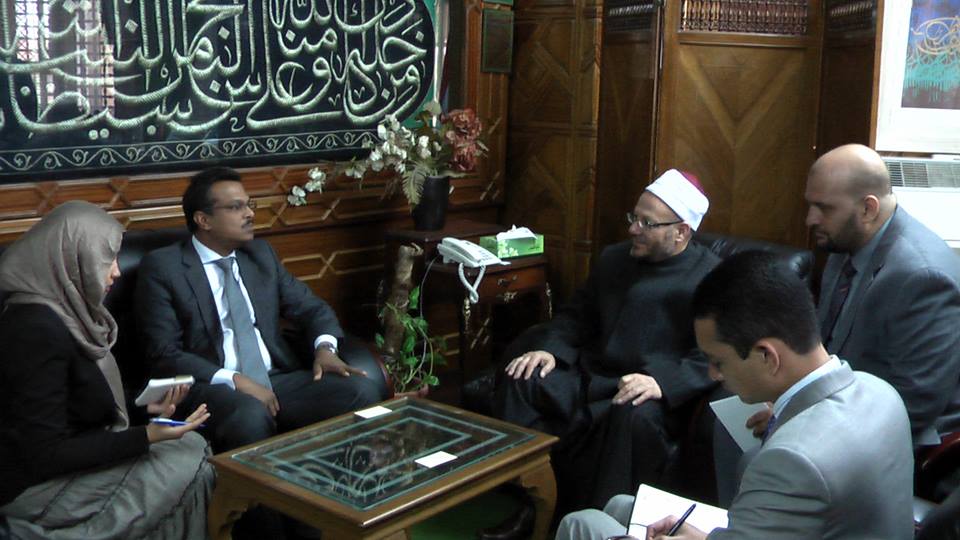 The Grand Mufti of Egypt, Dr. Shawky Allam, received in his office at Dar al-Ifta al-Misriyyah the Ambassador of the Republic of Singapore, His Excellency Premjith Sadasivan. During the meeting they discussed the means for promoting religious cooperation between Dar al-Ifta al-Misriyyah and religious establishments in Singapore.
Dr. Allam said that Dar al-Ifta is fully prepared to support Muslims and religious establishments in Singapore. Dr. Allam assured the Singaporean ambassador that the administration of al-Azhar University is taking all the necessary steps to facilitate the educational process to its students everywhere. He said that Egypt is moving towards stability and commended the stance of the Singaporean government and people towards Egypt.
During the meeting, the Singaporean ambassador stressed the importance of Dar al-Ifta's role in propagating the spirit of moderation conveyed by the magnanimous message of Islam. He described al-Azhar as the cynosure for Singaporean students studying Islamic sciences.
Related Articles