The Singaporean President praises the relentless efforts of Dar al- Iftaa in combating terrorism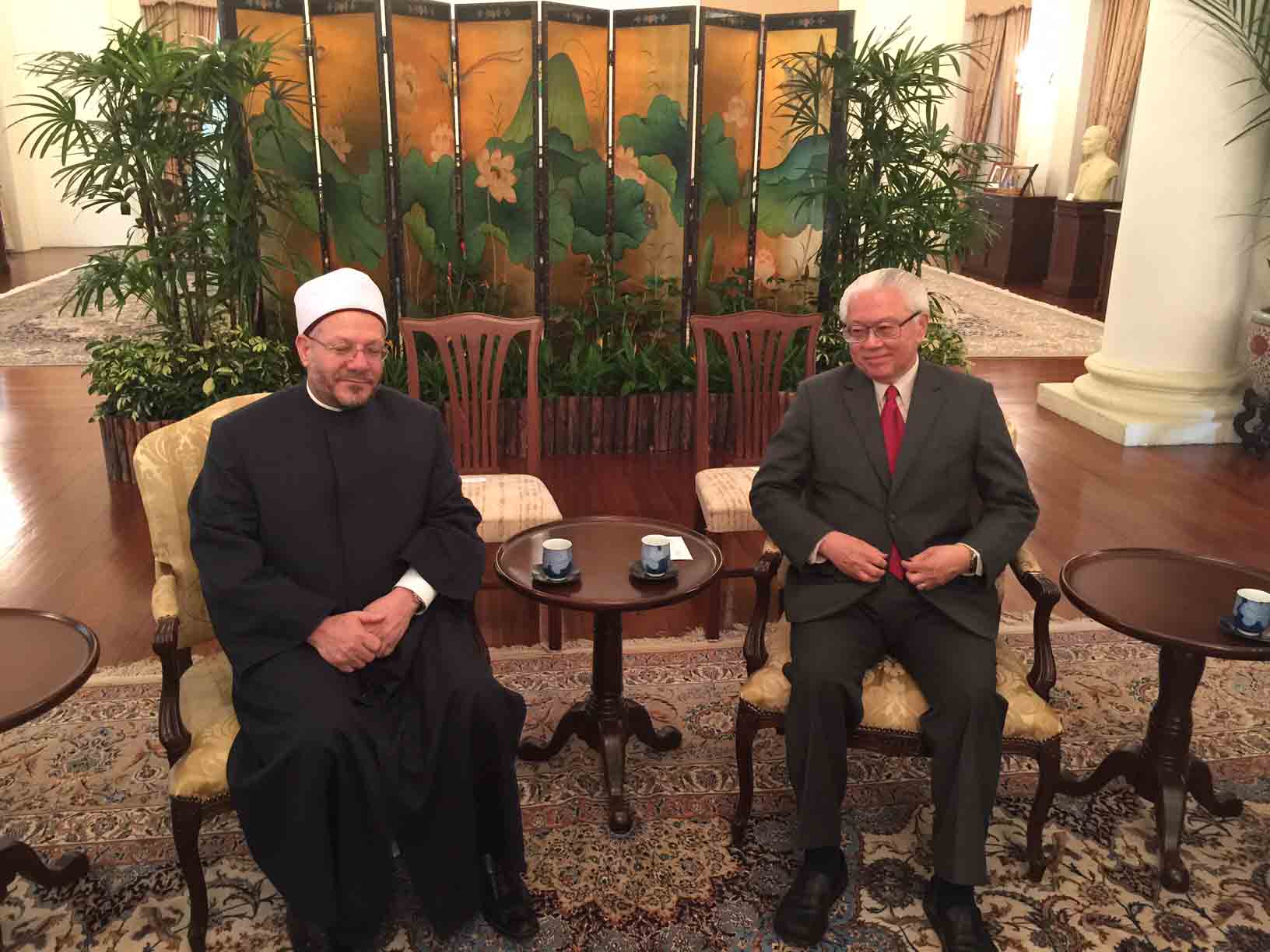 Part of his official visit to the Republic of Singapore, Egypt's Grand Mufti, Dr. Shawky Allam, met the President of Singapore, His Excellency Tony Tan, this morning in the Presidential Palace. During their meeting, Dr. Shawky confirmed that the Egyptian President, Abdul-Fattah El-Sisi, is paying great attention to renewing the religious discourse and fully supports the endeavors of Egyptian religious institutions working hard to achieve this in reality.

He also asserted the fact that terrorism knows no religion or country, all countries are liable to its threat and it is necessary for all to cooperate in encountering and demolishing it on the intellectual and security levels. From his part, the Grand Mufti discussed with the Singaporean President the positive progress witnessed in Egypt on the political, legislative and economic aspects, and the role of the Egyptian army in protecting and guarding the resources of the State. Dr. Sahwky pointed out that both the Egyptian leadership and people are persistent on overcoming the challenges their country is facing.

Mentioning Egypt's new Suez canal, Dr. Shawky clarified that it is a giant project anticipated to be a strong thrust for achieving true comprehensive development for Egypt and the entire region, confirming that Egypt is looking forward to cooperating with Singapore in this regard to achieve notable participation from the Singaporean side in the upcoming economic conference.

As for studying in Azhar, the Grant Mufti expressed his pleasure for having more than 200 Singaporean students studying in the noble Azhar, asserting that the Azhar and its Scholars are considered the intellectual guard for Egypt and the entire world against terrorism.

In their discussions, Dr. Shawky mentioned the prompt efforts exerted by Egypt's Dar al-Iftaa to dissolve the extremist ideologies, following a scholarly methodology in responding to them in different languages to protect the youth from falling prey to this threat.

From his part, the Singaporean President, Mr.Tony Tan, conveyed an oral message through the Mufti to President Abdul-Fattah El-Sisi in which he extended his sincere greetings to the Egyptian President, confirming that he closely follows up the achievements accomplished recently in Egypt, expressing his gratitude for the political stability witnessed in Egypt, a matter which attracts and gives chance to foreign investments.

Mr. Tony Tan clarified that Singapore fully supports Egypt in its steps toward achieving development, appreciating the Egyptian experience of coexistence among people sharing the same country.

In conclusion, the Singaporean President expressed his desire to enhance the cooperation with Egypt's Dar al-Ifta to encounter the extremist ideologies based on the Dar's global experience in this field.
Related Articles